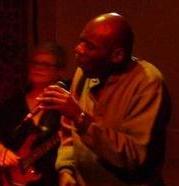 Jazz and blues. These are J. Freeman's favorite music genres—and his lifelines. "Music stays with me all day and all night," said the vocalist. During the 15 months he was homeless, Freeman pressed on through his hardships, listening to, writing and performing music.  "Music was the reason I got through, and it has been that way all of my life," he said.
During his time at IFC, not only did Freeman suffer from depression, but his physical health was jeopardized when he experienced a stroke. Fortunately, there were no lasting effects, and the IFC made it possible for Freeman to access the medications he needed to recover and stay healthy. Freeman said that the ability to see a psychiatrist, obtain medical attention and receive job coaching at IFC helped him to get back on his feet. "It was the best combination program that could work for me," he said.
"There is nothing more stripping than homelessness," says J. Freeman. "It leaves nothing uncovered. And it can be a very strenuous ordeal, especially mentally." Freeman offers empathy for anyone who might find themselves homeless. "It is one the darkest times of your life," he said. "(Community House) is a good place to start to get your life back together.