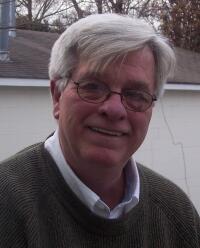 Michael Wood lived in Chapel Hill during the 1970s but left his family, friends and job to go to Atlanta. Mike became a successful restaurant manager in Atlanta, but a drug and alcohol problem escalated and interfered with his ability to work. Eventually, he returned to North Carolina, moving around for several years. A drug charge finally sent him to prison for 13 months, and after he was released, he said he soon came to his senses. "I had nowhere else to turn — that's when I had to get clean."
Mike said that in early 2010, he turned to IFC's Community House where the people and resources saved his life and supported him in his recovery. While at Community House, he became involved with "Talking Sidewalks," a project in which he was encouraged to express his feelings through creative writing, a hobby that still serves as a valuable outlet for him. He has since moved out of Community House and lives in his own home in Carrboro.
Mike volunteers on the IFC's board of directors, where he serves as Treasurer and advocates for the new Community House. In addition, he serves on Community House's Resident Advisory Board, a policy-making group. He also teaches Opportunity Classes offered by the Community Empowerment Fund. "When you stop doing drugs, you have to change everything. I was self-centered, and I didn't care," he said. "Now I try to spend a lot of time doing things for others if I can," he said.