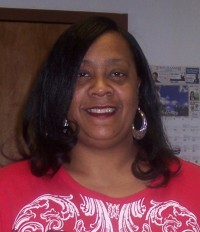 Sonya "Cookie" Dixon's involvement with IFC began over 30 years ago when the first of her four children was born and Ms. Cookie started living on her own. She used to take all of her children to IFC's Family Connection program where low-income families came together to cook meals for one another. "It showed you other people in the same situation, and I loved it," she said. "We cooked, we talked, we shared ideas about what we had done or what we'd been through."
Ms. Cookie said her family's involvement with IFC has taught her children from an early age to give back to the community, and her daughter, Angela, 16, still volunteers at IFC.  Ms. Cookie volunteers each Friday in IFC's Food Pantry. In turn, IFC is there for Ms. Cookie and her children when they are in need. Ms. Cookie has a daughter, Pearl, who has cerebral palsy. Pearl's special needs make it difficult for Ms. Cookie to work full-time.
Ms. Cookie said she is grateful for the friends she's made at IFC and the support they've provided over the years. "Maybe one day a blessing will come by and we'll be able to give them what they gave us," she said. Ms. Cookie now works for IFC cleaning the Douglas Building in Carrboro.