IFC Co-Sponsors Affordable Housing Rally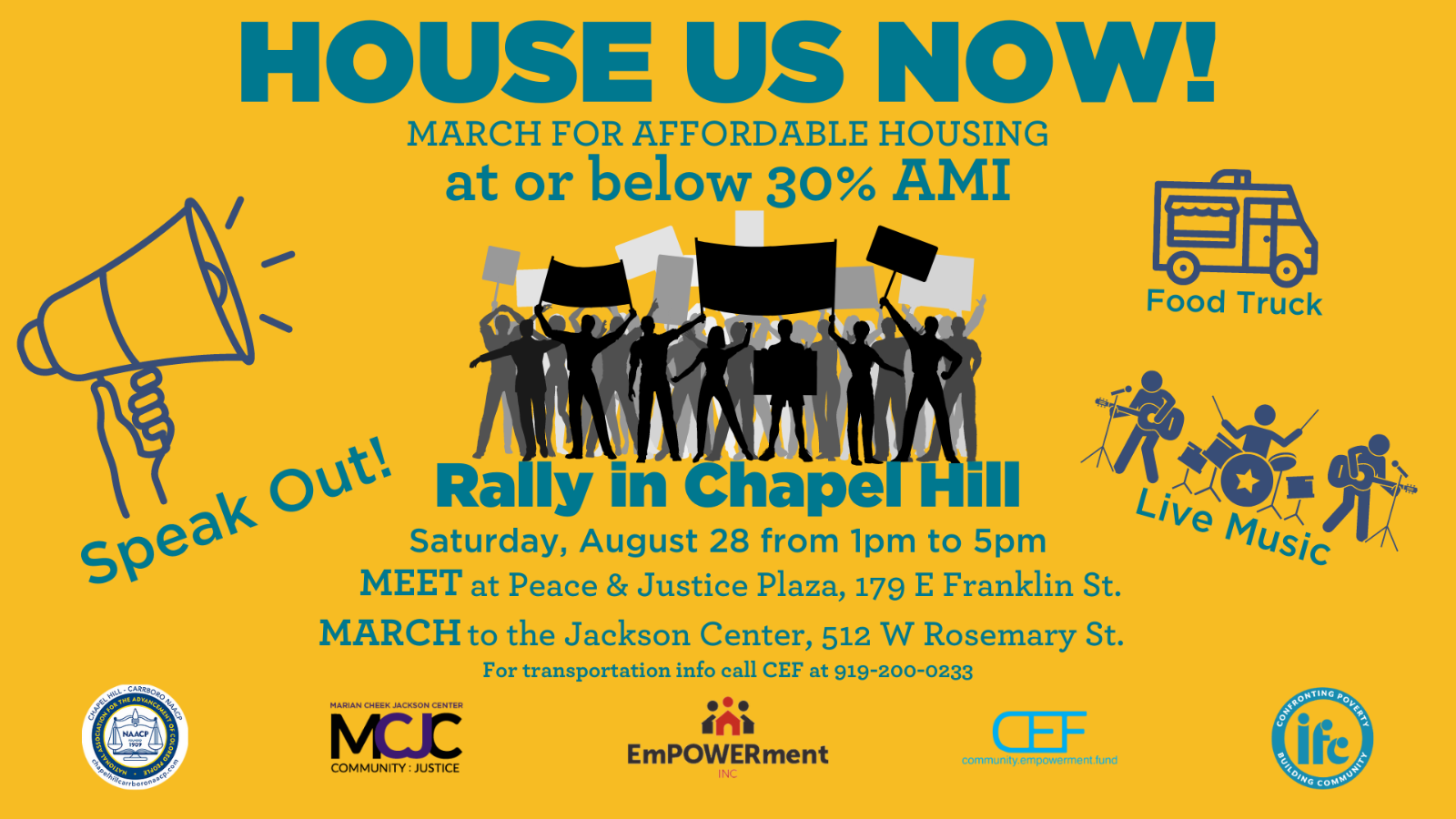 IFC is proud to be a co-sponsor of the House Us Now! rally,
one way we live out our mission to
Confront the Causes of Poverty and Build Community.


Ways to get involved:
Join us on August 28th to stand in solidarity and center the voices of
people most impacted by the high cost of housing in our community.
Who keeps us safe? We keep us safe! With COVID numbers going up,
and our desire to keep each other safe, wearing a face mask is strongly
encouraged. Also consider bringing water and a hat.
Share this email and posts from our social media pages with your
neighborhood listservs, faith congregations, and friends.
Volunteer to help during the rally.
Donate to defray the cost of hosting the rally.
Watch for future affordable housing advocacy opportunities including:
• Pee Wee Homes Hill Street Project
• Upcoming Chapel Hill Human Services Meeting
• Meeting of the Minds Collaboration
• Jay Street Development
6. Vote on Election Day this November 2nd OR vote early between October
14th - 30th.

Schedule of events for House Us Now! Rally on August 28th:
1:00pm
Peace and Justice Plaza
179 E. Franklin Street
Welcome and explanation: what is 30% AMI (Area Median Income)?
Folks with lived experience share their experiences of housing
insecurity, the struggle of finding safe and dignified affordable housing,
and the triumphs of finding community support, housing stability and
beginning to thrive in community.


2:00pm - 2:30pm
3:00pm - 5:00pm
Marian Cheek Jackson Center
512 W. Rosemary Street

From all of us at IFC, thank you for supporting our work
to build a more equitable community!
IFC confronts the causes and responds to the effects of poverty in our community.
Community House - HomeStart - Housing Support
Community Market - Community Kitchen - Emergency Financial Assistance
REAL Transformation (Race.Equity.Action.Leadership.) - Activate! IFC
Chapel Hill and Carrboro
www.ifcweb.org
919-929-6380