Community Kitchen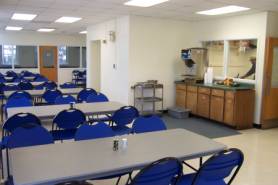 As of the first week of January 2021 we are moving into our new building at 110 W. Main Street in Carrboro. Please note the following with regard to the Community Kitchen:
Community Kitchen plans to provide uninterrupted service of take-out meals.
The last meal at 100 W. Rosemary St. (Chapel Hill) will be dinner on Tuesday, 1/19.
The first meal at IFC Commons (located at 110 W. Main St., Carrboro) will be lunch on Wednesday, 1/20.
If you are bringing a donation for the Community Kitchen, staff are generally here 9-5 Monday through Friday and 9-2 Saturday and Sunday.
Please call 919-929-6380 for more information.
---
Monday through Friday
Lunch 11:15am-12:30pm
Dinner 6:15pm-7:00pm
Saturday
Lunch 11:15am-12:30pm
Sunday
Lunch 12:15pm-1:30pm
Last year the IFC provided around 60,000 free meals to community members. Meals are free of charge and are provided to anyone who is hungry as well as to the residents of Community House and HomeStart.
Community volunteers and volunteer groups representing congregations, businesses, neighborhoods and the University provide nutritious, hot meals 365 days a year. The Kitchen Coordinator--the one paid staff member in the Community Kitchen--schedules and trains volunteers to prepare and serve meals. Nearly all of the food that is served is donated by local restaurants, food services, campus groups, farmers, congregations and businesses. The IFC partners with Farmer Foodshare and other local groups to provide fresh, locally-grown produce for the Community Kitchen.
The Community Kitchen relies heavily on volunteers to prepare and serve meals and clean up afterwards. Meal monitors provide support to volunteer groups and address client needs during the meal. Volunteers also help pick up, receive, sort and store food donations.