Community Kitchen
Current Meal Times
Community Kitchen is currently providing hot meals on a take-out basis at IFC Commons, 110 W. Main Street in Carrboro on the J bus line.
LUNCH Monday-Saturday from 11:15am-12:30pm
DINNER Monday-Friday from 5:15pm-6:00pm
LUNCH Sunday from 11:15pm-12 Noon


***NEW MEAL TIMES STARTING FEBRUARY 14, 2022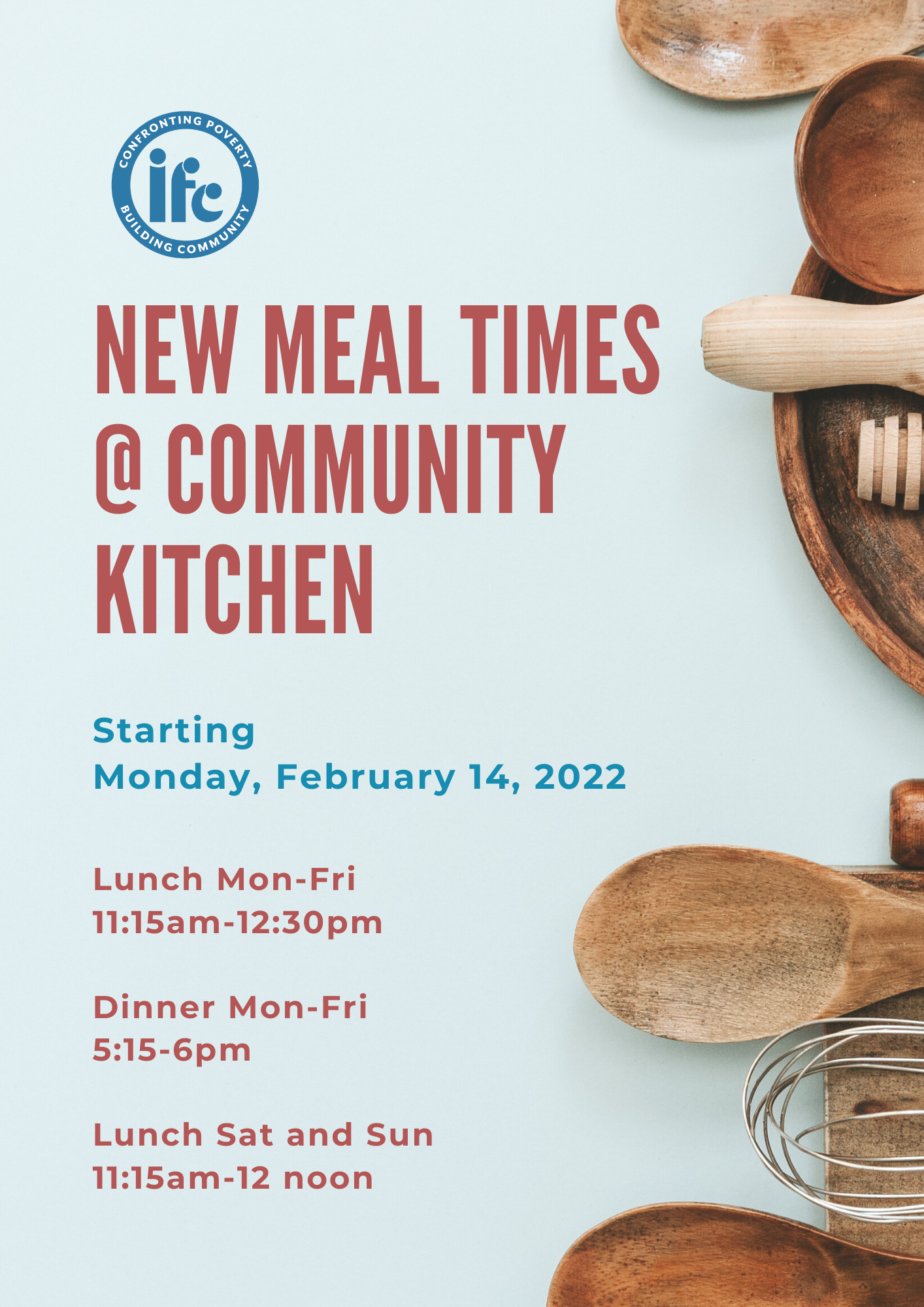 FOOD, MEALS, AND OTHER DONATIONS
Please bring small deliveries for the Market or Kitchen to the ground floor lobby. A staff person or volunteer will ensure they get upstairs.
If you have a delivery for the Market or Kitchen that is larger than 5 bags, please bring to the loading dock at the rear of the building, off of Weaver Street between 201 and 203 (El Centro Hispano and Provence). There is a doorbell you can ring and someone can get a cart to help unload.
Meals for Community House should serve about 52 people. Please contact Ka'Tiera Truett to schedule delivery and discuss any and all details at 919.929.6380 x3013.
Meals for HomeStart should serve about 14 people. Please contact Tracey Hagan to arrange delivery and for any questions about the process at 919.929.6380 x4013.
Meals for IFC Commons should serve 50-70 people for lunch and about 30 people for dinner. Please contact Kristin Lavergne for all of the details at 919.929.6380 x2021.
---

Last year the IFC provided around 60,000 free meals to community members. Meals are free of charge and are provided to anyone who is hungry as well as to the residents of Community House and HomeStart.
Community volunteers and volunteer groups representing congregations, businesses, neighborhoods and the University provide nutritious, hot meals 365 days a year. Nearly all of the food that is served is donated by local restaurants, food services, campus groups, farmers, congregations and businesses. The IFC partners with Farmer Foodshare and other local groups to provide fresh, locally-grown produce for the Community Kitchen.
The Community Kitchen relies heavily on volunteers to prepare and serve meals and clean up afterwards. Volunteers also help pick up, receive, sort and store food donations.