Community House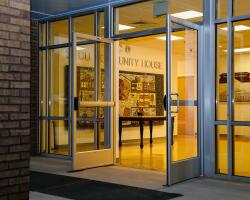 (Updated December 2, 2020)

If you are a single man in search of information regarding emergency shelter during inclement weather, please call 336-264-4196 to speak to a staff person on duty.
---

IFC SECU Community House is a 24-hour shelter for men experiencing homelessness. In keeping with IFC's belief that everyone deserves dignified and affordable housing, we provide a safe, temporary home until residents obtain permanent housing. We assist residents in connecting to appropriate community resources for finding housing as soon as possible, as well as other resources. In partnership with Piedmont Health, we offer healthcare to residents. During extremely cold weather, we offer emergency overnight cots as space allows.
If you are experiencing homelessness and are interested in information about admission to Community House (including the availability of cold weather cots), please call the Orange County Homeless Information Line at 919-245-2655. To speak to the Community House staff on duty, call 336-264-4196.
2018 Good Neighbor Plan Updates
September 21, 2018: http://www.ifcweb.org/features/community-house-update-september-21-2018
August 8, 2018: http://www.ifcweb.org/features/community-house-update-august-2018
May 23, 2018: http://www.ifcweb.org/features/community-house-update