Volunteering at IFC is a special opportunity to make a positive impact on our community. Volunteering here is about much more than delivering groceries or providing a meal. It's about honoring individual life experiences with sensitivity and awareness.

If you'd like to learn more, please: 1) express your interest by completing the volunteer application and 2) emailing it to the Community Engagement Director at mwooten@ifcmailbox.org. We have many volunteer opportunities and regularly contact interested individuals. To protect community health and safety during the COVID-19 pandemic, we continue to mask in all IFC buildings.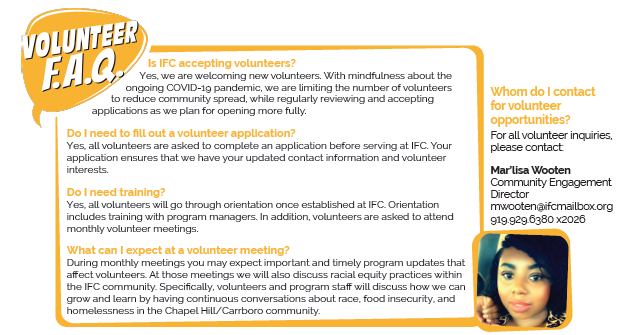 You don't have to be a cook to help out in Community Kitchen. Can you send veggies through the food processor and wrap desserts? Then you're good. Plus, it's meditative and healing to stir 5lbs of rice for your neighbors. Check out the video below of meatloaf prep with Kitchen Manager Lance. (He removed his mask for narration.)
In some cases community members are invited to serve on board committees. If you have questions about those opportunities, please contact Jackie Jenks at jjenks@ifcmailbox.org.
THANK YOU FOR YOUR INTEREST!