Community Market (Food Pantry)
As of the first week in January 2021 we are moving into our new building at 110 W. Main Street in Carrboro! Please note the following with regard to the Community Market:

Community Market and Emergency Financial Assistance services will not be available from Friday, 1/1 through Monday, 1/18.

These services will resume by appointment Tuesday, 1/19 out of IFC Commons (located at 110 W. Main St. in Carrboro).

Our capacity to receive food donations for the Community Market will be limited from Friday 1/1 through Monday 1/18.
Please call 919-929-6380 if you have something that is time-sensitive to deliver.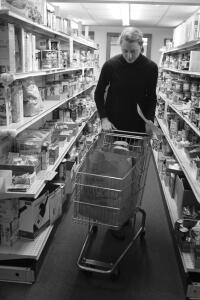 ---
The Community Market provides around 1,300 bags of groceries to those in need every month. Households in Chapel Hill or Carrboro, or in which an adult works in those communities, may become members of the Market who are welcome to receive groceries once a month. Grocery quantities offered are based on the number of people in the household. Community Market members may be eligible for other services. (See "Crisis Intervention" for more info.)
Staff, student interns and community volunteers receive, sort and stock food, interview clients and greet visitors at the reception desk.

IFC relies on donations from individuals, congregations, community food drives, grocery stores, and UNC-Chapel Hill campus. The Market also partners with Farmer Foodshare and Weaver Street Market to receive fresh locally-grown produce that is distributed with non-perishables. See list of current needs.

With community donations and hands-on help, holiday meals are distributed at the end of November and December to member households that have pre-enrolled.