Memorial Service for Donna Bradley
The Inter-Faith Council for Social Service is planning a memorial service for Donna Bradley at 3pm on Saturday, August 27, at the United Church of Chapel Hill (1321 MLK Jr Blvd). A reception will follow at IFC @ SECU Community House (1315 MLK Jr Blvd).
---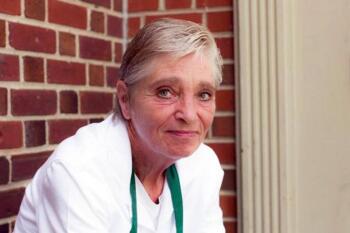 Donna Cecil Bradley had a rough exterior, but friends agree she would do anything she could to help someone in need.
But Bradley, 59, rarely talked about her own struggles, even after finding out this spring that cancer was growing in her lungs. The Orange County native and longtime coordinator of the Inter-Faith Council for Social Service's Community Kitchen died July 28.
IFC resident staff manager Al Wiley worked with Bradley for almost nine years. She was tough when she needed to be, he said.
"When she'd get mad, her eyes looked like 50-cent pieces," he said. "But if people came off the street asking for help, Donna would help them."
She was also his best friend, Wiley said. That's why it was tough to see her so sick; he wanted to remember who she was, he said.
"A couple people said to me ... they said the only reason she was still holding on is because she wanted to see me," he said, choking tears into a closed fist.
Former IFC executive director John Dorward and his wife also visited Bradley, driving her to radiation therapy appointments. Others checked in on her and delivered meals. She remained fiesty and fun to be around, Dorward said.
"Donna was one of those people that once you got to know her, you loved her and you wanted to help her when she needed help," he said. "You knew that she wouldn't accept help, and she wouldn't ask for it unless she really needed it. We all got an opportunity to do that in the end."
Bradley lived in an apartment off Franklin Street and never owned a car, Dorward said. She always said she didn't need to go anywhere the bus or walking couldn't take her, he said.
Few people knew she had three children – two sons and a daughter – or about her longtime partner John.
Bradley arrived at the IFC about a decade ago, moving into the Project HomeStart facility for homeless women and children. She was working as a shelter services representative by May 2008, and that September, she was hired as the Community Kitchen coordinator.
Bradley was dedicated to making the kitchen a safe place for everyone, IFC operations manager Kristin Lavergne said, calling to let her know if someone was causing an issue and needed help. Bradley understood how to talk to people, she said.
Bradley once said she learned to cook from her grandmother. She became one of the longest-serving kitchen coordinators, Dorward said, and said she was going to work there until she absolutely couldn't do it anymore. She reminded him last month that she did that, he said.
Bill Culton, Bradley's right-hand man for years, has filled the job. He was reluctant to take over, but Bradley urged him to do it, he said.
Bradley really cared about the people who worked with her and those she served, said Margie Tippett, a 14-year volunteer.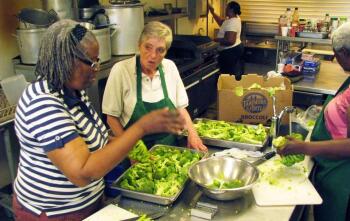 "She would call everybody by their name. If she didn't know people, she'd find out who they were," Tippett said. "I think folks that would come in here respected that."
IFC executive director Michael Reinke, who was hired last year, tried to check in with Bradley every week.
"There are some people you look to and you know there is a rock that you can stand on. That's a person who is going to make things happen come hell or high water," he said. "Donna was one of those people."