IFC named Non-Profit of the Year!
IFC is honored to be recognized by the Chapel Hill-Carrboro Chamber of Commerce as the Business Excellence Awards Non-Profit of the Year. IFC was started and continues to be a true community effort, with more than 7,000 people - members, donors, volunteers, residents, and staff - connecting every year to confront the causes and respond to the effects of poverty in our community.
We believe in a community where everyone's basic needs are met, including dignified and affordable housing, an abundance of healthy food, and meaningful social connection.
*****************************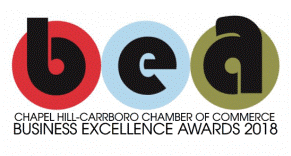 Chapel Hill, NC (May 21, 2018) – The Chapel Hill-Carrboro Chamber of Commerce recognized the winners of the 2018 Business Excellence Awards and the 97.9 The Hill People's Choice Awards on Friday evening during the fourth annual Business Excellence Awards - a red carpet celebration at the Paul Green Theatre with nearly 300 guests.  

"At the Business Excellence Awards, we recognize the very best in class throughout our community and across 25 categories," said Aaron Nelson, President and CEO of the Chapel Hill-Carrboro Chamber of Commerce. "These winners show us what it means and what it takes to do well and do good."
The Non-Profit of the Year recognizes an outstanding Chamber member charitable non-profit organization that has shown growth, innovation of product, exemplary customer service, response to adversity and/or contribution to community. The 2018 Non-Profit of the Year is Inter-Faith Council for Social Service.