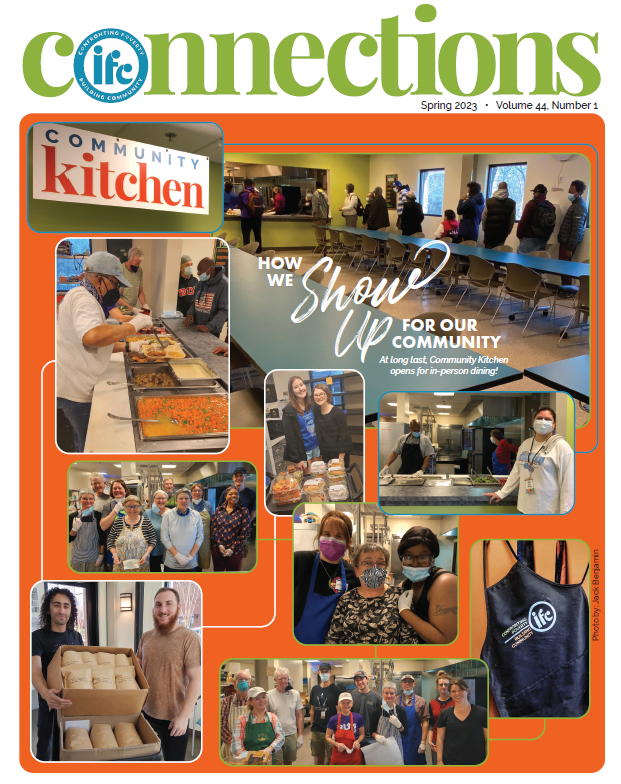 How will you show up?
By Jackie Jenks, President and CEO
Recently our leadership team did a reflection activity. Each of us was asked to share with the group how we showed up in new ways in 2022 and to name how another person in the room also showed up last year. As we took our turns answering, we held a spool of yarn, then tossedit to the person we had named.
By the end we had created a web of yarn and stories that connected us. The activity pointed out that, like a spider web, our connectivity may be hard to see at times, but it is strong and sticks with us. It underscored the importance of showing up intentionally and bringing folks along.
As you'll see on pages two and three, IFC member Darren Campbell shows up to offer readers powerful insight into what it means to represent at Town Council, and to be present for each other as neighbors. We thank Darren for sharing his wisdom and truth.
This winter, local government entities showed up with IFC to create an expanded inclement weather shelter in a county-owned space. Together, we now show up for more of our neighbors to offer "white flag" shelter during extreme weather.
As an organization, we're looking carefully at how we'd like to show up during the next three years. With the help of a consultant - and a cross-section of our staff, volunteers, members, residents, and board members - we completed a Theory of Action process that outlines strategic direction and goals for the near future. We'll be sharing more information about those details in upcoming communications.
Fulfilling IFC's mission looks like showing up to make sure all of us have what we need. How we show up, and how we encourage others to show up, is the ground we stand on. It's how we put our values into action. We are strongest when we center the voices and experiences of people most impacted and when people experiencing the problems offer solutions. How do you want to show up in new ways this year to confront poverty and build community, and who will you bring along? As IFC celebrates 60 years in the Chapel Hill – Carrboro community, we welcome you to continue this work with us.