Emergency Financial Assistance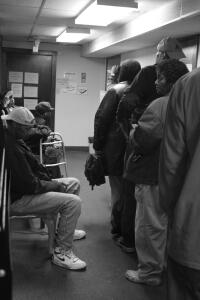 As of the first week of January 2021, we are moving into our new building at 110 W. Main Street in Carrboro! Please note the following with regard to emergency financial assistance:
Community Market and Emergency Financial Assistance services will not be available from Friday, 1/1 through Monday, 1/18.
These services will resume by appointment Tuesday, 1/19 out of IFC Commons (located at 110 W. Main St. in Carrboro).
Navigator services, led by Tashawna and Kennedy, will continue at 100 W. Rosemary St. in the community room by the dining room on Tuesdays & Thursdays 11:30am-2:30pm until we re-open at IFC Commons.
SOHRAD Program Phone: 919-886-3351; Email: SOHRAD@orangecountync.gov (Mon-Fri 9am-11p and Sat. 2p-11p)
Orange County Housing Helpline Phone: 919-245-2655; Email: housinghelp@orangecountync.gov (Mon-Fri 10a-4p)



---
The Crisis Intervention program serves local households and persons in need by providing food, clothing, rent, utility assistance, help obtaining IDs, transportation, information and referrals. Anyone who lives or works in Chapel Hill or Carrboro may call or visit us when they are faced with economic uncertainty, an illness, or hardship that could lead to homelessness. Trained volunteers and professional staff assess clients' needs and provide a compassionate response to personal and household emergencies.

Members of IFC Community Services may be eligible for:
Assistance with rent and/or utilities once every 12 months.

Household groceries and hygiene items every month on an as-needed basis (see "Food Pantry")

Clothing vouchers for the PTA Thrift Shop once every six months

Medication in case of an emergency

Help getting an ID every two years

Bus passes for appointments, interviews, funerals or emergencies